Plums
The most popular of the stone fruit, plums need good garden soil, slightly acid to neutral . The flowers are produced early when there is risk of frost damage so avoid frost pockets if possible or grow, fan trained, on a sunny south or west wall. Trees grown this way can easily be covered with fleece or polythene when ever frost threatens.
Plums benefit from as little pruning as possible so make sure they have the space to grow naturally with just a little formative pruning in the early years. Unlike apple and pears, never prune plums (or any other stone fruit) in the dormant winter months as infection can enter the open wounds. Small, formative pruning cuts early in life are far better than larger cuts later on.
Cropping can start in the second year after planting but doesn't really get under way until the trees are 4 to 5 years old and have produced more bud wood
Choice of Rootstocks
For years St. Julian A was the main "dwarfing" rootstock for plums but this still produced quite vigorous trees- 20 ft. or more.
Pixy is a new dwarfing stock but still manages a 10 -15 ft. tree in the open. Over the last few years of testing this stock we feel it does not perform too well, especially in wetter weather
Jaspi and Plumina are two new dwarfing stocks that are just beginning to make an appearance but it is too early to evaluate them at present. Pollinators,
where needed, are given
PIXY
For more compact trained trees or larger bushes
St. JULIAN A
For larger trained and free standing trees
VARIETIES TRIALLED BY US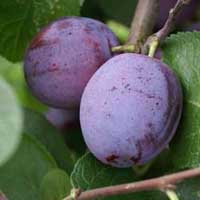 Avalon
Vigorous and slow into cropping but an excellent flavoured dessert plum,
partially self fertile. Best on dwarf stock (Bristol 1980)
An older variety from 1874. Dark purple skin with yellow flesh. Heavy crops, self fertile and reliable. Good for eating cooking and bottling
Edda
Great dessert plum, blue skin yellow flesh and rich flavour. Use Opal or Victoria for pollinators
Excalibur
Like a large Victoria, excellent quality but shy into cropping. Vigorous so best dwarf stock. Pollinated by Victoria
Guinevere
Heavy cropping and easily managed. Light purple fruit and good eating qualities. Late picking, September to early October. Self fertile
Haganta
New large blue plum from Germany. Late season. Partially self fertile. In my opinion, the best flavoured of any plum
Jojo
A new promising variety added to the trials garden for evaluation
Jubilee
Excellent flavoured plum, a cross of Victoria and Czar with fruit similar in appearance to Victoria but larger. Strong growing, best on dwarf stock. Self fertile
Kirke's (Kirke's Blue)
Large, dark blue, firm but rich flavoured. August picking. London 1831
Victoria is good for pollination
Marjorie's Seedling
One of the last plums to pick-as late as early October here in some years.
good culinary plum and eater with sweet flesh and blue skin. Victoria and many others for pollination. Grown as a large fan on our garden wall
Methley
A Japanese type plum (prunus salicina). Small with red flesh and a sweet, mild flavour. Very refreshing
Opal
Probably the most reliable of garden plums. Sometimes known as early Victoria. Reddish purple fruit, superb flavour. Self fertile. Sweden 1925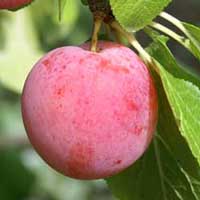 Reeves
One of the best flavoured red varieties, similar if not superior to Victoria. Pollinate with Victoria.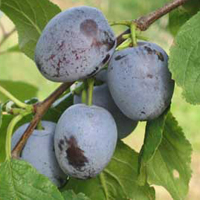 Sanctus Hubertus
One of the best cropping early varieties with large, purple blue fruit in early August. Eating or cooking. Any of the above for pollination. Grown as a large fan on our garden wall
Seneca
Picking in September, this is a large oval plum, reddish purple with yellow, sweet flesh. freestone type. New York 1937. added to the trials garden 2009 for evaluation.
Valor
Large dual purpose fruit with greenish yellow flesh, very late in the season. To be added to the garden 2010. Any of the above for pollination. Canada 1933
Victoria
The most widely planted plum to date and the most disease prone unfortunately, though it still manages to crop even when in poor condition. A freestone variety with the familiar oval red fruit. Suitable for dessert, bottling or canning. Sussex 19th century