Autumn Season
NEW STOCKS OF SUPERB QUALITY SHRUBS
FRUIT TREES AND BUSHES, ORDERS STILL BEING TAKEN. DON'T FORGET APPLE TASTING DAY IN 2021
LARGE RANGE OF CLIMBERS
FULLY STOCKED TREE SECTION SHOWING GOOD AUTUMN COLOURS AND CRAB APPLES FULL OF FRUIT
​PANSIES AND VIOLAS... MANY INDIVIDUAL COLOURS AS WELL AS MIXTURES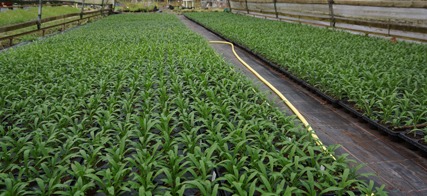 Over 15,000 Wallflowers grown and sold every autumn, half of which are pre-ordered before they are on sale.
These well spaced bushy plants are not to be confused with the sorry looking bundles often seen on sale in the autumn.
Large selection of bulbs

Sorry sold out 2020, more available August 2021.

Well filled winter baskets

Smaller flowered Violas

Large range of the smaller flowered Violas including trailing types

Autumn Colour

Outdoor Mini flowered Cyclamen

Ideal for containers and baskets sorry sold out 2020 More available September 2021.

Malus (Crabapple) "Crittenden"