Poinsettias
Now the only grower and retailer of Poinsettias in Derbyshire,
For this year we are proud to offer over 1200 superb quality plants in over 20 varieties.
Choose from reds, whites and bi-colours plus Lime greens and Glitter.
KEEPING POINSETTIAS HAPPY
If you've had trouble keeping poinsettias in the house, chances are your plant was unhappy before you handed over your money!
Usually it's not the growers fault. To achieve a marketable plant they have to be grown well. Its normally the shipping and handling that's the problem.
Cold journeys to or from the wholesale market, left outside on trolleys to chill before being set out on display (which is usually in a draughty shop doorway!!) or on the pavement during late night Christmas shopping when the temperature gets well below freezing are just some of the things that spell disaster for poinsettias.
Any plants treated as such usually look OK until you get them home, then they start to drop their leaves and bracts and never make it past twelfth night!
Buying direct from us ensures a good start but you still have to observe some rules.
We will wrap the plant in the warm, straight from the greenhouse (and keep it there while you enjoy tea and cake in our tea rooms!) You will get it home in reasonable time, not rolling about in the boot of the car but up front with you in the warm and not left to chill in the carpark while you do 4 hours Christmas shopping! Once home cut the wrapper off carefully and place in a draught free spot. A window is good during daylight hours but not behind the curtain, against cold glass, at night.
Of course, it's best on show somewhere on in the evening.
We grow varieties these days that are quite happy at 55 Fahrenheit. This is colder than most living rooms so your poinsettia is going to be very happy.
DO NOT over water. If a customer chooses to kill their poinsettia, this is the way they usually do it! They come from arid regions and are well adapted to dryness at the roots, but don't go too far. If the compost feels and looks dry, or if the plant is just starting to wilt then this is the time for water. Give enough to just go through the compost but not to fill the saucer below. If you do give to much water, empty the saucer after 10 minutes, no harm done, but leaving it sitting in a puddle invites disaster.
Our plants should last for months and many customers tell us how well their poinsettias are doing when buying summer bedding plants 4 months later! Give a little house plant fertiliser fortnightly if you want to achieve those sorts of results.
They really aren't a difficult plant to keep happy.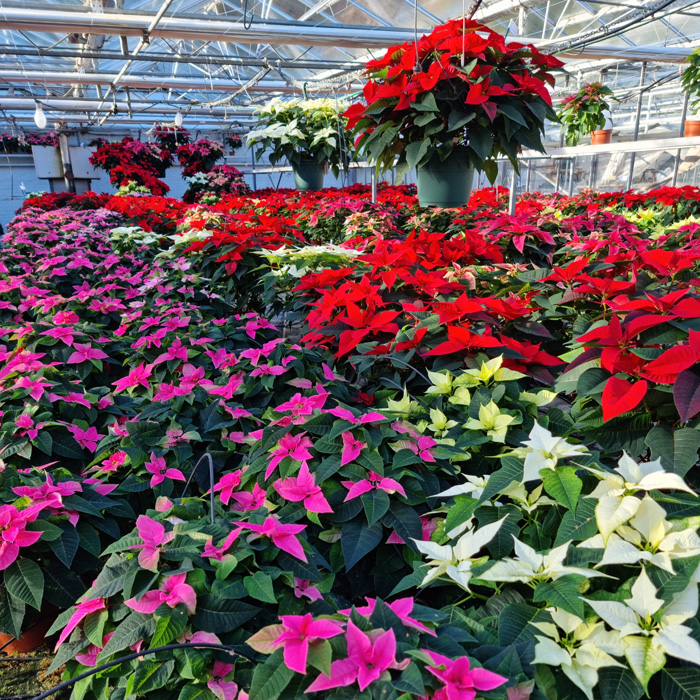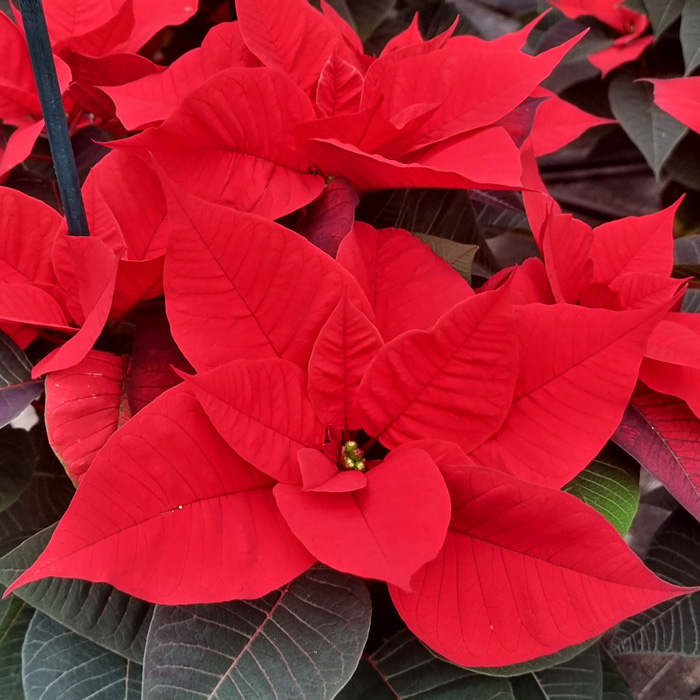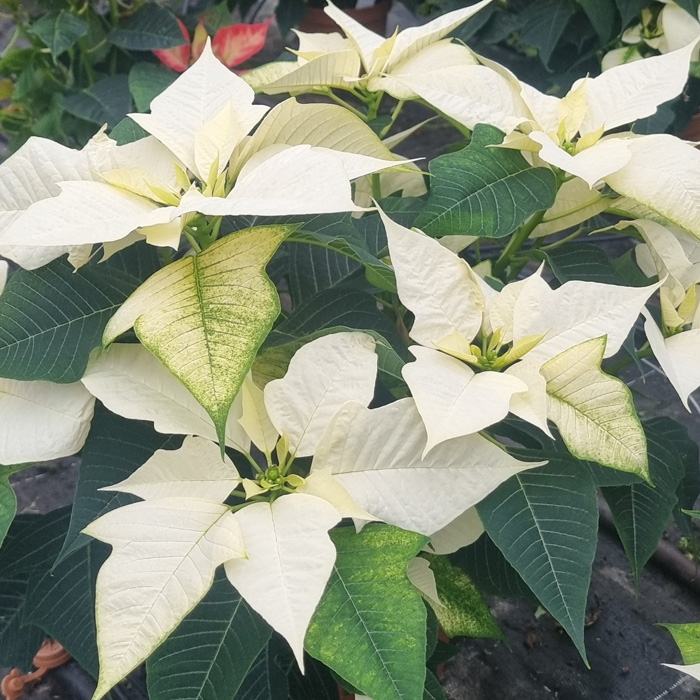 Poinsettia Alpina